In the winter semester 2018/19, I'll be offering two advanced courses at the University of Cologne. Both of them are designed only for prospective teachers (LehramtskandidatInnen):
Zum Spracherwerb der deutschen Syntax - In this course, I will explain how and when selected syntactic structures are acquired in German and why they pose a challenge for chlidren diagnosed with different specific language impairments [description].
Anmelden, besuchen und bestehen! Infinite Strukturen im Deutschen - I taught a similar course in the winter semester 2014/15 at the University of Potsdam and decided to write an introduction book (Einführung in die nicht-finite Syntax des Deutschen) together with my colleague, Augustin Speyer, from the Saarland University on a similar topic. I'll use our book for the purposes of this course [description].
Please note: Due to the fact that in last semesters over 200 candidates applied for my individual courses, I am forced to introduce selection criteria. Preference will be given to candidates who attended my courses in the last two years.

---
In the summer semester 2018, I'll be offering one basic course at the University of Cologne for undergraduate students and one advanced course at the University of Lisbon for graduate students:
Einführung in die Sprachwissenschaft, University of Cologne (undergraduate level, basic course, course number: 14467.0107; Tuesdays, 10:00 – 11:30 am, room: 103 Seminarraum S76; Thursdays, 12:00 – 1:30 pm, room: 106 Seminarraum S22)
Tba. (University of Lisbon)
---
In previous semesters I taught the following courses at the University of Cologne:
winter semester 2017/18: Syntax des Deutschen + wissenschaftliche Arbeitsmethoden [evaluation]
summer semester 2017: Einführung in die Sprachwissenschaft [evaluation]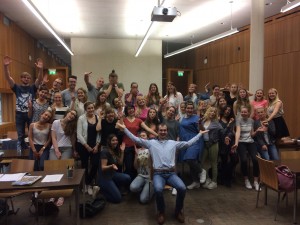 In this picture, you can see students' reactions after having mastered V-to-C movement in German (all students agreed to be part of this post). This was a very nice and creative group!
Addtionally, I gave lectures representing my colleagues in the following courses:
winter semester 2016/17: Einführung in die Sprachwissenschaft [evaluation]
In addition, I gave lectures representing my colleagues in the following courses:
Nominalphrasen (representing Klaus von Heusinger, lecture on parts of speech and phrases)
Historische Sprachwissenschaft des Deutschen (representing Agnes Jäger, lecture on phonological language change processes: Grimm's law, Verner's law)
Einführung in die Sprachwissenschaft (representing Carla Umbach, lecture on morphological language change processes)
---
In previous semesters I taught the following courses at the University of Potsdam: