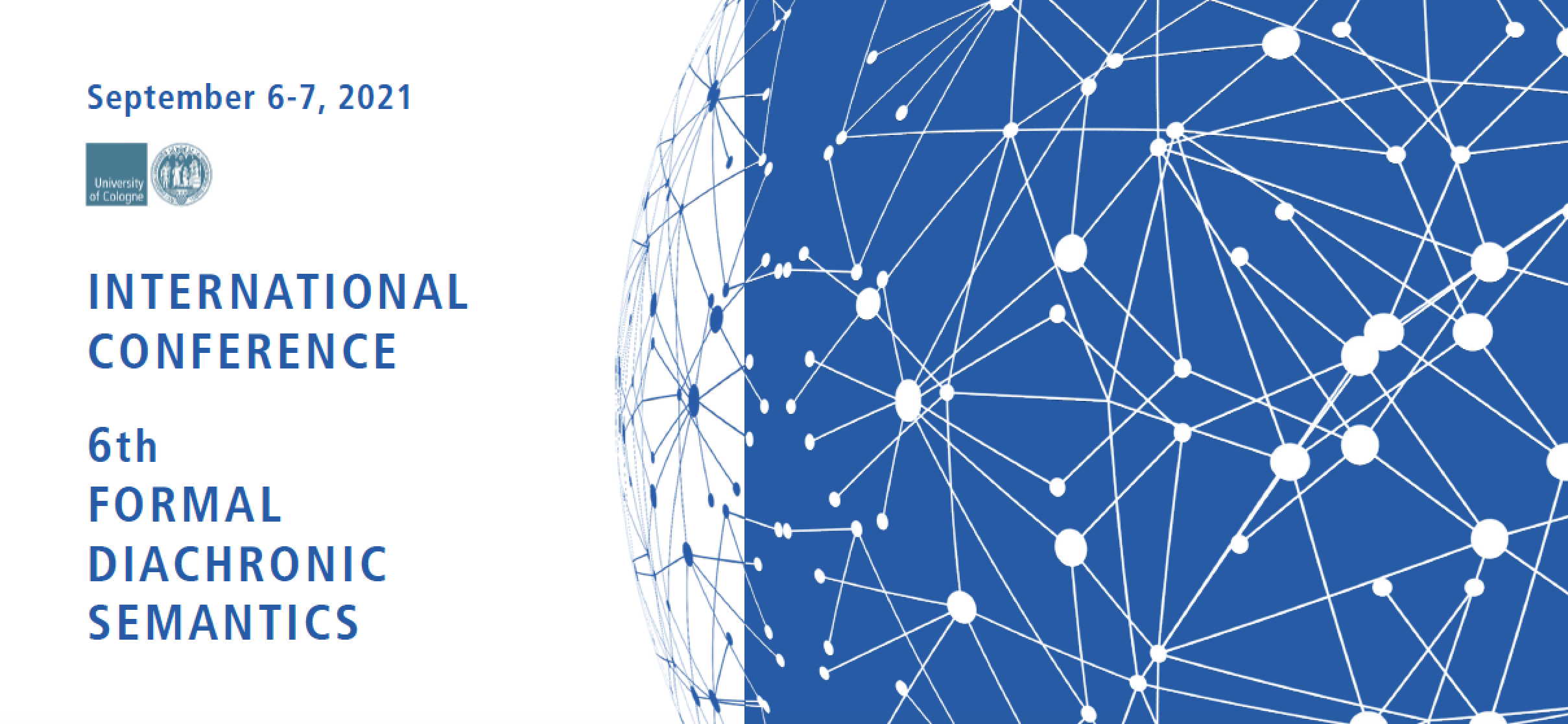 Meeting description
Formal Diachronic Semantics (FoDS) is a venue dedicated to work in semantic change carried out within the paradigm of formal semantics/pragmatics. The 6th FoDS will be hosted by the Institute for German Language and Literature I – Linguistics at the University of Cologne, on September 6-7 2021.
Invited Speakers
Invited senior speakers (confirmed):
Invited student speaker (confirmed):
---
All times are listed in the 24 hour system, and are in Cologne time (UTC+2).
The conference will be held virtually only via Zoom.
September 6 (Monday)
September 7 (Tuesday)
---
Proceedings
A selection of papers presented at FoDS 6 will be published in a thematic volume. Authors of the papers chosen to be published will be asked to submit an extended version of their abstract submitted to the FoDS 6 conference. The extended abstract version should count three pages (excluding references), contain author's information (= forename, surname, affiliation, e-mail address), implement the feedback given by the FoDS 6 audience, and be sent to fods-6@uni-koeln.de no later than February 28, 2022. More details will be presented at the business meeting of the FoDS 6 conference.
---
Contact details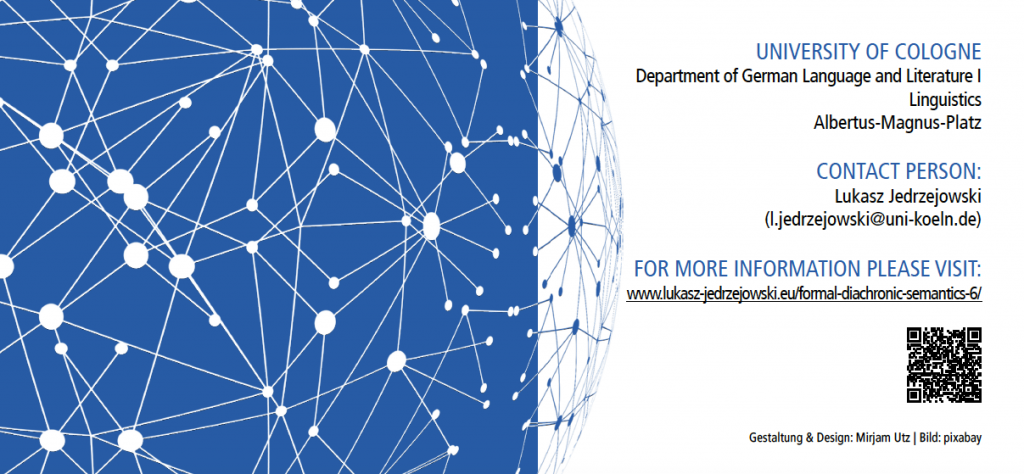 ---
Registration
Please register online until September 3, 2021 by writing an email with the subject line "Registration" to our conference email:
Related event:
You might also consider attending Sinn und Bedeutung 26 organized by the Institute of German Language and Literature I and the Cologne Center of Language Sciences at the University of Cologne on 8–10 September 2021.
---
Call for Papers
We invite submission of abstracts for 40-minute oral presentations (with an additional 20 minutes for questions) or poster presentations on topics that address semantic change from within the paradigm of formal semantics/pragmatics. These may include case studies, studies of trends, corpus results, as well as formal theories of meaning change in specific domains. We also welcome research at the interfaces with syntax and other areas, as long as the research makes a contribution to the area of formal diachronic semantics/pragmatics. We welcome papers that address methodological questions in the field.
Poster presenters will present lightning talks and then present their poster virtually via Zoom. Abstracts should be submitted in PDF format through EasyChair, with all non-standard fonts embedded. Abstracts should not exceed 2 pages, which includes the data. An additional third page may be used for references. Abstracts must be submitted in letter or A4 format with 1 inch or 2.5 cm margins on all sides, single-spaced, and in a font no smaller than 11pt. Abstracts should be anonymous. Please make sure that PDF files do not have any identifying metadata. Submissions are limited to one individual and one joint abstract per author (or two joint abstracts per author).
Each abstract will be reviewed by three individual reviewers from the Scientific Board.
Please submit abstracts via EasyChair no later than June 14, 2021 (closed).
EasyChair submission link:    https://easychair.org/my/conference?conf=fods6
Notifications will be sent out in the last week of July 2021.